Congratulations!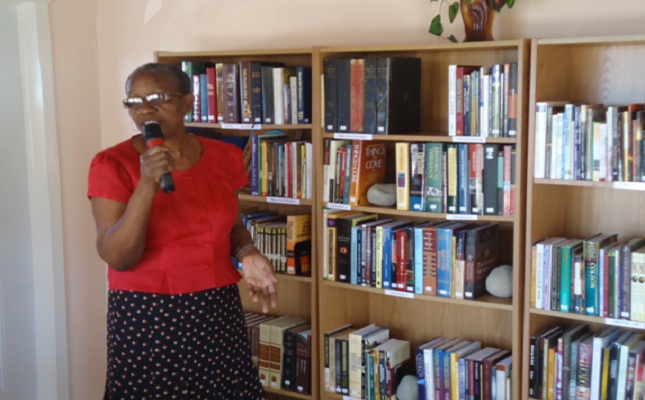 HurshalNewZ Group Antioch Baptist Church opens theological library - http://t.co/imo77Jtf: SKNVibes.comAntioch Baptist... http://t.co/j1Zluq6k

#theological
TalLisa Campbell

Helping to create a library at a local nondenominational church. Looking for books-CD-DVD recommendations & donations. And plenty of advice!

Holly

I got to let people know I want to get the library going at church

KathrynWambui Kimani

I'm all for building a library in the church :D

Ciara Keefer

Wait, idea... Turning a "storage" room in the church into a library...

#goodidea

Elizabeth Hutchinson

At church this a.m. a little boy stopped me and said "thank you so much for our new library....it's great!" What more could I say

#lovemyjob

Rebecca The church I'm at has a cute wee library complete with a new book display how awesome :-)

Stonebriar

Visit our church library to find a new devotional or a movie for your family. Access the library catalog online http://t.co/ydpFEE0w

Melanie

I think I need to go on an Amazon spree to buy books that need to be in our church library.
Ricardo Diaz Check out new work

@Behance

: "Evangelical Church Library Association" http://t.co/RIbFJZxF
Picture this:
Claredaisy

@ireland Here is our extremely pretty little library in Sixmilebridge, County Clare http://t.co/mqPCY5c6

Jason Aspinwall

The cool thing about living in a 90 year old church is definitely the library... I have a lot of reading to http://t.co/QINjMc4y

Kimie Gutierrez

There is a library in church http://t.co/4kay73Nk

Joseph Nooft

Children's church turned library. Awesome. http://t.co/AmTppBEX

Donna Shenk

Hanging out in our church's children's library while I wait for our meeting

#irelandbound

#byfaith

http://t.co/GXVY8lxu

Sarah Zubarik

just noticed my church has a little free #

library

in

#bigbend

just south of

#waukesha

http://t.co/O9l4qGWn

Meaghan

Church library

#episcopal

#school

#biblesfodays

http://t.co/5w309K8G

Jonathan Hatto

Is it weird that I just found this in a church library? http://t.co/I5RBVHuu

Ty

I'm at a gay wedding in a church which is unusual for me but LOOK AT THIS LIBRARY. http://t.co/rlA4dzjn
Hmmm
DevoutLibrarian

Delegation is key-don't let that church library become a one-(wo)man show!

Kyle Sanders

@catholicmumma

Down in Louisiana when we hear parish library we think of the public library no the church parish

#wedonthavecounties

Elizabeth Scalia

Massachusetts diocese sells Catholic church; town will turn it into a library http://t.co/6FtB6Kl9 via

@deaconsbench

Savage Tree Arts

Capitol View property that includes historic church purchased for new library http://t.co/GuYGXRNt

Ramiro Morales Hojas

A church transformed into a scientific library FTW! HT"@materia_ciencia: Imagen simbólica http://t.co/mCtkms69 http://t.co/knonTvDC"

Alpha Omega Arts

Church Stained glass windows being relocated to Public Library in Iowa http://t.co/RNmeGf44

Monica McNew

The library at the church is awesome with its stained glass windows and old books and stuff.

Mike Hyatt

If you find the Left Behind Series in the Theology or Commentary section of your church library you have a problem.

Missy Buchanan

Churches-- Reach out to older adults in retirement communities by donating faith-based books (w/ your church info inside) to their library.

Lucas McCain

@edstetzer

Hey Ed, our Church needs a complete make-over of its library. Do you think you can help us out??

HuntingdonTCA

@RetreatsUK

we have an Archdeaconry Library full of books to lend to any church near us in Huntingdon area phone 01480 412674 if interested

Stephen Walters

We're cleaning out our library at church. We have a ton of Bibles. Does anyone know a ministry that takes old Bibles?

Megan Engelhardt

Mini-purge in the church library tonight. I found treasures! Like projector slides, and something called "JoyTrek." (Heh heh.)
Jael Hamilton I found this book in our church library. I wonder who put it there. I'd really like to talk to them. #

ChristianAnarchy

http://t.co/zlEcwUae

Sarah Swearingen

Is it weird that my church growing up had a gym, gameroom, elevator, library and lounge? Or is that normal?
The Best Place of All
LibraryFiend

" Two places that affect you most powerfully...The church which belongs to God... and the public library belongs to you" - Keith Richards
IG: 31_status

There is no perfect Church, so build a relationship with him. Stop trusting man! Seek The Lord. Use the church as a holy library!

Beth Allison

@bloomsburyruth a library at church?! Can I join your church please!?
Oh no!
Ashley

I'm pretty sure several small children think the church library's book drop box is a trash can.

Small Town Pastor

"The church library could NOT use your children's old textbooks!"

#thethingspeopleask

Beth Barrow

Just found a book from the AINSWORTH church library in my car... oops.

What are they reading?
Laurie Murphy

Lots of books checked out in our Church

#library

today! Support yours! I'm gonna read "Dark Water" by Linda Hall local author :)

Caris Adel

@SarahNMoon

this made me laugh. The other book I checked out of our church library for research is The Dateable Rules.

energion

"In the Original Text It Says" Word-study Fallacies & How to Avoid Them - excellent resource for church library http://t.co/Uwoj9WBU

churchlibrarymouse

@JillEileenSmith

Patrons at our church library love your books

churchlibrarymouse

@angiehunt

Thanks for following our blog. We love your books at our church library

Mark Lee

@edrowell

was thinking about you yesterday. We played in S Dakota at a church and they had your book in the library! Hope you're doing well

Virginia S.Saunders

@patrickmadrid

My church just included your book SURPRISED BY TRUTH into its Library. Thought I'd let you